Being great neighbours is part of who we are
We're fundamentally connected to each other and the world around us. From national grids and global climate to the everyday world of streets and homes, our connections to the communities we are all a part of give meaning to what we do.
Our genuine commitment to this idea is more than just words. We actively engage with our communities, because enriching the people around us makes us a better business too. These are just some of the projects that InterGen support in our communities.
For the team at Millmerran Power, achieving sustainable development means meeting the needs of the present without compromising the ability of future generations to meet their own needs.
Through our sustainable development programme, we support the economic, societal and environmental health of the community in which we operate. To date, this has encompassed over thirty diverse initiatives with wide-reaching community benefits.
Every year we participate in a range of projects, which recently have included the upgrade of the local water supply and sewage treatment; building a hospital helipad; fundraising for rural fire brigade trailers, delivering computers for adult education, and much more besides.
On the environmental front, we have helped to restock native fish species in local watercourses and undertaken tree planting, helping to make Millmerran sustainable for generations.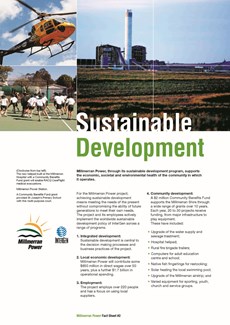 Our team from Spalding in Lincolnshire, UK, have participated in a great range of activities designed to engage young people and the wider community. The lovable Norm the Newt is a real favourite, visiting local schools to help kids understand power and electricity.
Spalding Engineer Joe Whitmore helped out recently as a judge during the annual technology day in nearby Norfolk. More than 70 high school students competed to design and build road bridges using cardboard and a pulley system, developing their engineering skills in the process.
The team support Lincolnshire Road Safety Partnership, having fundraised for a new vehicle and materials to help educate young people about the perils of driving too fast in Lincolnshire.
And on-site, our graduate and apprenticeship programmes provide fantastic opportunities for young people to develop excellent careers. We also operate a bustling visitor programme for people eager to learn more about the energy that powers everyday life.
The Christmas lights, that is. The team from Coryton power station in Essex, UK, came to the rescue of the community in nearby Stanford, helping to raise funds for the town's festive illuminations in 2019.
After working with the local authorities, local business and community groups to make sure Stanford would enjoy plenty of bright Christmas cheer, the InterGen team were delighted to be invited to take part in the switching-on ceremony and a seasonal singalong.
Meanwhile, elsewhere in Essex, David Evans from Coryton has been helping to fire up the next generation of STEM professionals. His long-running programme of visits to local primary schools is loved by teachers and kids for their lively mix of education and fun.
The InterGen team at Millmerran Power worked with the Queensland Resources Council and Queensland Government to deliver education programmes aimed at local high school students in 2019.
This series of six fun workshops brought year 9-10 students, teachers and industry professionals together to learn more about electricity, power, engineering and the science that's hidden behind keeping the lights on every day.
As well as giving young people an opportunity to explore new career options and learn about their world, it provided a valuable forum for understanding their concerns about energy, the environment and the future.
And there was an unexpected piece of feedback which made the InterGen team blush. Said one student (no relation): "the three representatives from industry were COOL" – we didn't see that coming!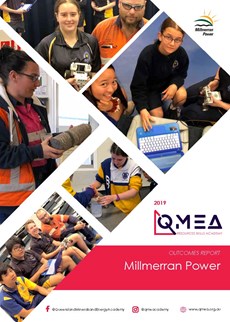 The InterGen team in Edinburgh supports local charities through a wide range of fundraising activities. Since 2015 we're proud to have raised over £62,000 for local good causes, including The Yard, Maggie's Centres and CHAS amongst others (ECHC in 2020).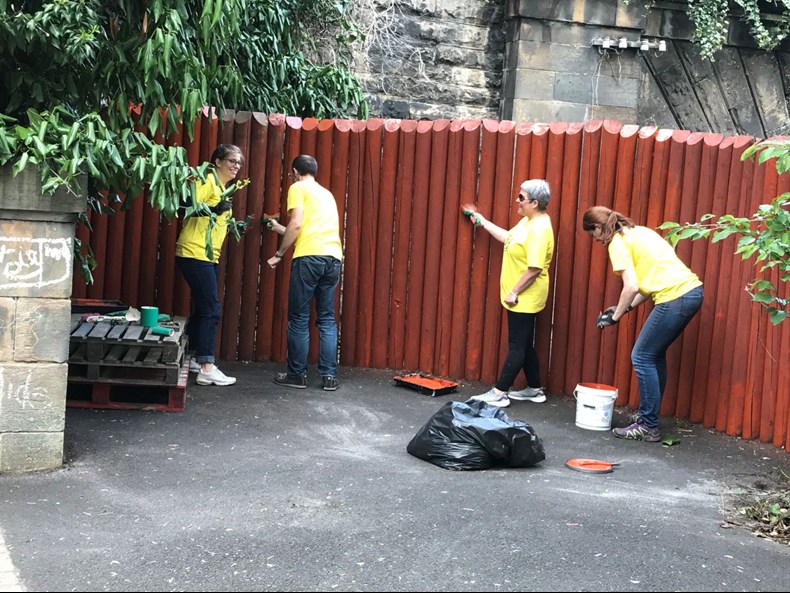 InterGen employees donating time to repaint outdoor play areas at The Yard.
Rocksavage took the clap for carers initiative one step further when it lit up its landmark cooling towers blue in support of the NHS and key workers.
To view the video please click here